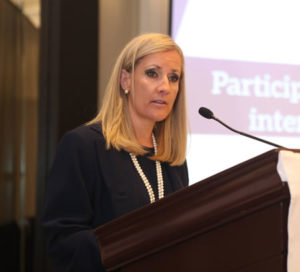 Graduated in Communications, specialized in Marketing and Organizational Communications from Universidad Ibero Americana, with studies in Institutional Governance at IPADE Business School.
Mexican business woman, founder of various manufacturing and distribution companies of building products.
CEO of Orestia, a manufacturing company specialized in innovative plumbing solutions, with exports to NAFTA region, Latin-American and Asia.
Her interest in improving the business environment, made her a prominent business leader at a young age. Board member of Mexico´s leading business organizations,; such as COPARMEX, CCE, ALIARSE, SenM, amon others.
For ten years, Mexico's Employer Delegate to the International Labor Organization Conference, where she became appointed Employer's Vice Chair at the ILO's 98th Session.
Has been appointed as Business Representative in various governmental boards, such as The Mexican Council for the North American Agreement on Labor Cooperation, The Supervisory Board of the Mexican Workers Housing Institute and the National Evaluation for Education Institute, among others.
Advocate for the CSR in Mexico and Member of BIAC's Corporate Responsibility Network, a leading figure in the anticorruption movement in Mexico.
President of ICC Mexico, Regional Coordinator for the Americas, Executive Board Member and President of ICC's Board Committee NetCom.